About ActionFight, Inc.
Founded  in 2005 by Sal Carrillo, ActionFight Inc. was created to fill a niche in the MMA industry; quality marketing and event operations. ActionFight's mission is to bring a new level of event operation and marketing to every company and fighter we work with by building solid relationships and implementing successful, industry-proven strategies. This mission has been the foundation of ActionFight's success in the MMA industry.
Having worked with some of the largest and most well-established promotions and fighters in the country, ActionFight has leveraged its extensive experience to be one of the most relevant companies of its kind. With long-lasting media relationships and partnerships with some of MMA's greatest ventures, we are excited to work with the best companies and fighters in the world and take them to even higher levels.
About the President
With ten plus years of experience in technology industries such as ISPs, Internet Security and VOIP in the areas of Marketing and Operations,  I have been able to utilize that experience and transfer it very seamlessly into MMA. The combination of analytical and pragmatic skills, gained through my experience in business operations, combined with the creativity and outside-the-box thinking I've gained through my marketing and business development experience has allowed me to  integrate both into what is more than just a job for me, it's a passion.
From the moment I saw UFC 1, MMA and its inner workings became an absolute passion for me.  I knew that I had to get involved with this sport someday. My first entry into MMA came by way of training in Brazilian Jiu-Jitsu. I had just moved back to San Jose, California from Toronto and was looking for a gym at which to train BJJ. After doing a few internet searches I stumbled upon the web site for American Kickboxing Academy (AKA) in San Jose. Being that I had a background in technology, I decided to contact the owner of the gym, Javier Mendez, and offer my services to re-design the AKA web site.
After striking up a friendship with Javier Mendez, we agreed on a trade that would allow me to train at the gym in exchange for my web design services. The web site was completed and I continued my BJJ training under UFC veteran Bobby Southworth. Javier loved the site and my writing of the different sections of the site and asked if I'd like to write editorial pieces for the site (reviews, previews, interviews, etc.). I began conducting interviews & meeting fighters such as Jon Fitch, Josh Koschek, Mike Swick, Josh Thomson, Bobby Southworth, Rich Crunkilton and Frank Shamrock. It was the meeting of these world class athletes in addition to managers and promoters that began my advanced network of contacts.
Before long I was traveling to many local MMA events as well as UFC events and talking to even more industry veterans.  I incorporated ActionFight in 2005 and after gaining valuable experience in the MMA industry I decided to switch from technology to MMA and follow my passion full time. I am absolutely passionate about the sports of MMA and Submission Grappling and seeing them both grow!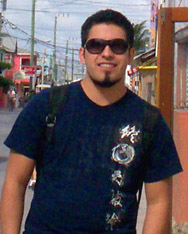 Sal Carrillo, President
ActionFight Inc.