Posted by
ActionFight
on Feb 2, 2010
Roger Huerta Interview Pre-UFC 63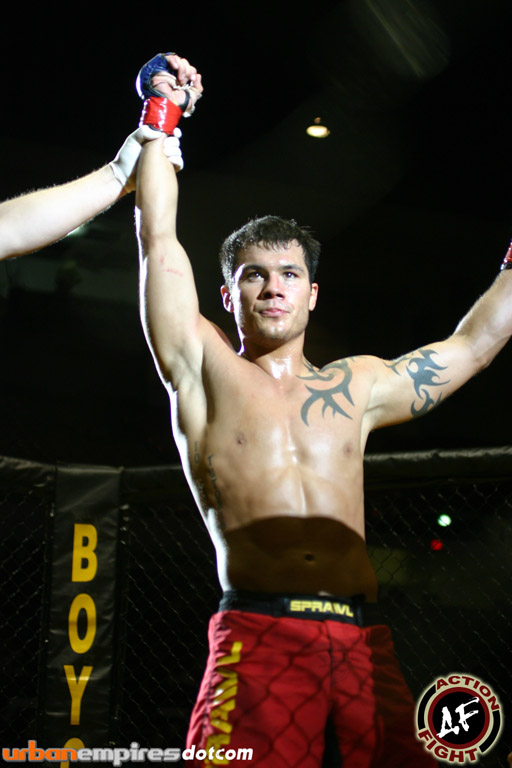 By Sal Carrillo
August 22, 2006
Roger Huerta is one of the top up and coming lightweight fighters in the world. Roger will make his UFC debut at UFC 63 in Anaheim, California against Jason Reinhardt. Below is a very candid interview with the rising star as he shares his story with the entire MMA community.
SC: Hi Roger. Thanks for taking time out of your busy schedule for this interview.
RH: No problem.
============
SC: Let's start out with some information about Roger Huerta the person, not the fighter. Give us a rundown of where you were born/raised and what your childhood was like.
RH: Well it's kind of complicated! (Laughing) I was born in L.A. on May 20th 1983. My parents then moved to Dallas. My early years were spent in Dallas, but my parents separated. My mom started working three jobs and basically went crazy. She started abusing me and pretty much beating me up all of the time. Child protective services took my sister and me away from my mom. During this time we just roamed around foster homes until my dad obtained custody of us. My mom then stole us from my dad and took us to El Salvador. This was when the war was going on. At some point my mom just left me there with my grandparents, along with my little sister. I had to grow up very fast and had to adapt. I really had a tough childhood. Then my mom showed up one day to pick us up and dropped me off with my dad. I was about six years old at that time.
RH: Living with my dad was rough because my step mom abused me. My dad and I then moved to Mexico. Both my dad and I moved in with an aunt I had in Mexico. Then my dad just left me with my aunt. From there I moved in with grandparents I had in Mexico. I worked most of my childhood, just hustling and selling stuff to tourists. Out of the blue my dad came back to pick me up again. We moved to the Valley in Las Milpas, Texas at the end of my third grade year. Learning to speak English again was hard. At this time my dad began doing drugs and basically forgot he had a son. In fifth grade my step mom kicked me out since my dad had not showed up for a month. She believed that I wasnt her responsibility. It was hard, I had no place to go, no place to stay. I began staying with friends but it was mostly in rough neighborhoods. Most of the people were in gangs and sold drugs. School was a sanctuary for me because it offered free food: breakfast and lunch. In 7th grade I started playing football and track and field. I was very good at both and earned the MVP in football and track and field. Around this time I was living with a family called the Rangels. I met them through their son Mike who I was playing football with at the time. It was awkward living with a family that was not my own, but it was a place to live. One night I took the car out without permission and got in trouble for it. Taking that car out ended up getting me kicked out of the house.
RH: I was on my own again and staying with random friends. I started staying with a family named the Kings. A friend of mine, Ricky King, said I could live with his family. It was cool for a while because his mom was never really around. She finally realized that I was staying there, and said I could stay there if I stay out of trouble and got good grades. Maria King got custody of me. For the first time I didn't have to work anymore, I was finally able to be a kid and enjoy my teenage years. After 8th grade the King family wanted to move to Missouri. I didn't want to leave Texas and go so far away. At this time the Assistant Principle, Margie McCarthy, of my middle school took me in. I went to PSJA North for my freshman year of high school.
RH: I once again felt out of place with McCarthy family, but I stayed for about a year. That year Maria and Ricky King came back for the summer and they wanted to move to Austin Texas. So I moved with them to Austin. I Enrolled at Crocket High School as a sophomore and played football on the varsity squad. I was a 164lb nose guard who in midseason moved to running back. My original plan was to get a football scholarship to any D1 school but I ended up tearing my PCL. I was injured badly in the playoff game and needed to have knee surgery. That ended my football career. Rehabbing the knee was hard and I almost dropped out of school. I was hanging out with friends in San Antonio during the rehab and then came back to Austin. I tried to come back to football but I couldn't. Things were rough living with the King family; I mean we were in a one-bedroom apartment. During my senior year I met wrestling coach Brian Ashford and Jo Ramirez who were great role models for me. They helped me cope with some of my bad past experiences. I asked Coach Ashford to get me somewhere in college. I told him I would do whatever he asked of me if he got me to college. I worked my ass off! When the State Championship tournament came around I was ranked ..1 in the state. During my second match of the tournament, I injured my knee again. I finished that state tournament 6th but qualified for a national tournament in Delaware. I ended up taking 7th at nationals. I was recruited by a lot of schools for wrestling and ended up choosing Augsburg College in Minneapolis. I moved to Minneapolis and started going to school and wrestle. Winter was a big shock for me; I never had to deal with anything like that. It was so cold and people stayed inside most of the time. I started getting home sick during the winter. The only person who helped me through all of this was Jo Ramirez. One day she asked if I wanted to come home for thanksgiving break, she also asked if i wanted to be part of her family. I was confused and didn't really understand the idea of a family. I mean, she already had 7 kids, all of whom are college graduates. Having never had a "real" home before I wanted to join in. Coming home for the summers really made her family grow on me. Having her children joke around with me really started to make me feel at home and part of the family. I finally started to experience what a real family was about. Jo Ramirez ended up adopting me that year.
RH: Can we stop for now? I'm getting tired! (Laughing)
SC: Sure no problem, we can start where we left off. I didn't know you were going to give me the whole life story! (Laughing)
RH: I told you it was complicated! You caught me at a time where I felt like sharing I guess. (Laughing)
CONTINUED…
RH: I finished my freshman year wrestling but had lots of injuries (shoulder and knee). During the end of my freshman year I started doing MMA in the amateur ranks. Brad Kholer had shows in Minnesota so I did some of those. Once I got a taste I decided to quit wrestling and decided to start training in MMA. A friend of mine, Chad, called and asked if I wanted to be in a 4 man tournament. Chad also asked if I wanted to train at Dave Menne's gym. I met Dave and started training really hard at his gym. At that time I was aggressive fighter and Dave taught me how to calm down and use more technique. At the end of my sophomore year I moved to Dallas Texas to train with Guy Mezger and then decided to take a semester off from school. There was a Muay Thai coach, Francisco Sanchez, at Mezger's gym who taught me a lot. I also took a lot of private classes with Mezger. Coach Ashford is the guy who hooked me up with Mezger. I began teaching kids classes and stuff, it was really nice. After that I went back to school in Minneapolis. I had some troubles with concentrating in school and was also getting homesick again. I went back to training with Dave Menne full time. Dave became my mentor and he taught me a lot on the ground. It's been a great friendship. That pretty much leads us up to now! (Laughing)
============
SC: What are some of your interests outside of Mixed Martial Arts (Music, Movies, Knitting, other sports, etc.)?
RH: Let's see… I like going to the theatres to see movies, I love to spend time in Austin with Mrs. King and my mom (Jo Ramirez). I go to Barton Springs in Austin quite a bit. Oh and San Marcus, I love going tubing down the river. I'm more of an outdoors person; I don't like being in the house at all. I just love being outdoors. I also like playing Texas Holdem and video games.
============
SC: Where are you training currently and who are some of your training partners?
RH: Right now I'm training at Dave Menne's gym in Minnesota. Dave has moved his gym a couple of times (from Brooklyn Park and Maple Grove) so there were some times when I didn't train there because it was hard to get to that gym and gas prices went up at that time. I also trained for about a month with the Militech guys like Matt Pena, Jens Pulver, Tim Silvia, Josh Neer, Spencer Fisher, and all the others in preparation for Hermes.
============
SC: How did you originally get into the sport of Mixed Martial Arts?
RH: A wrestling teammate of mine, Rich Miller, fought on amateur shows. That's how I got into it. I had seen MMA in middle school and high school. The first time I saw Vitor Belfort fight I was amazed. That was my sophomore year in high school I think. I wanted to be like Vitor. It was heartbreaking to see him fight Randy and lose. Vitor was one of the main fighters I looked up to when I was just a fan. I first started training with Rich Miller; I also trained at the Augsburg wrestling gym with Jemell Tidwell and Ryan Stroud.
============
SC: You were supposed to have made your UFC debut at UFC 61 against the very dangerous Hermes Franca and you had to pull out due to injury. Can you tell us a little bit about the injury and how you felt when you knew you would not be able to fight at UFC 61?
RH: A week before the fight I was grappling with Matt Hughes. I was in his guard and Matt went for a Kimura. We both heard a rip (like a shirt tearing). Matt let go right away and felt so bad. I went to a doctor and they found partly torn ligaments in my elbow.
SC: Did it swell up?
RH: It swelled up HUGE! I thought about getting a cortisone shot and still fighting, but I decided not to because I would be risking further injury. I was out for 6 weeks, just doing nothing. After about 6 weeks I started to rehab the elbow. I was heartbroken because I've wanted to fight in the UFC for ever. It's been my dream, my goal and I had told people that I would be there one day. I've always set my goals high and people never really seemed to believe in me. When I first learned I would be fighting in the UFC I called my boss Vinnie to take time off and train for the fight. Vinnie is amazing and told me to go for it. When the injury happened I was shocked and disappointed. Meeting Matt Pena, Jens Pulver, Tim Silvia, and all the Militech guys was the best thing to come out of this ordeal. I was staying with Monte out in Iowa for my training. Staying with Monte was great; his family was amazing to me the whole time. Monte is like a dad to me now and I'll be with him until I retire. I could not be luckier to have a manager like Monte. I mean Monte works at least 20 hours of each day! How hard he works for his fighters made me realize how good a person Monte is. The experience of training with those guys was still great even if I didn't get to fight.
============
SC: How is the injury coming along? Do you have any type of timeline as to when you may return to action? Will your return be in the UFC?
RH: I'm at about 85 percent right now. My Chiropractor, Carl Peterson, is working on me. My treatment includes: muscle stims, icing, and stretching. It's a blessing to have Carl Peterson. Right now I'm training at about 85 percent. I'm lifting weights, sparring, and grappling. I will be coming back on the UFC 63 card in September in California.
============
SC: Let's talk about the lightweight division. It is one of the most dynamic, fast paced and exciting divisions in all of MMA. It is also one of the deepest divisions talent wise. Are there any fighters in your division that you would like to face?
RH: Not really. I want to show that I am one of the best fighters in the world and that I will be one of the best until I retire. My goal is to win the belt, and defend it until I retire. Actually… now that I think about it, I would like to fight Gomi (Takanori Gomi). I love his style. I'd love to fight Gomi one day. He's always pressing the fight just like me. I think it would be a really great match-up.
============
SC: Who are some of the fighters that you like to watch as a fan?
RH: Wanderlei Silva, Vitor Belfort, Kazushi Sakuraba. I also love watching Fedor fight, he's an animal!
============
SC: Let's switch gears and talk a little bit about the sport of MMA as a whole. The sport has received a ton of attention and media lately which has led to growth on a very large scale. What are your thoughts on the growth of MMA over the past few years?
RH: I think the sport deserves the attention that it is finally getting. I would like more organizations to step in and give fighters a shot. I loved the fact that the UFC came out with TUF (The Ultimate Fighter reality show). I think that (TUF) is the biggest factor for the growth. The UFC is making great strides for the growth of MMA. I love the growth the sport is experiencing, it's just a great sport and I love it.
============
SC: What type of goals have you set for yourself not only in the fight game, but in life?
RH: In life I would like to finish college. I want to finish college by May. I'd also like to open up a gym to help out the community, especially the kids in the tough neighborhoods. I'd love to help kids that don't have anyone. We live in a very crazy world, if I'm here on this earth to be a role model then that's what I want to do. Another goal of mine is that I want a family of my own, and possibly adopt kids. I want to be a great father who will be there for his kids, his family, and anyone else who needs it. I want to give as much as I can in this life. People look at MMA as being gruesome and brutal. A lot of fighters are smart people and have college degrees, it's a professional sport and I want people to realize that. I want to help educate people who look at the sport badly.
============
SC: This is the point in the interview where you get to tell us about anything you want people to know about Roger Huerta that we may not have learned anywhere else. Most interviews are focused on a certain topic and don't allow the person being interviewed to fully express themselves or make a statement, so this is your chance if you have anything you want to put out on the table.
RH: I want people to know that I had nothing growing up, no family, nothing. I want people to know that only they have the power and determination to determine where they can go in this world.
============
SC: Thank you for the interview it has been a pleasure. Is there anything else you would like to say in closing?
RH: I just wanted to thank God for putting amazing people around me. I want to thank Monte Cox, Jens Pulver, Matt Pena, Dave Menne, Carl Peterson, the Tapout Crew, Jo Ramirez, Maria King, Cassandra Guzman, Wendy and Jay, the Rangel family, The McCarthy family, and Monte's family. I also want to thank the Augsberg wrestling team, Coach Ashford, and you Sal for the interview.